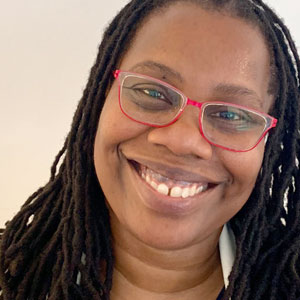 MERLE MCGEE (she/her)
President & CEO
Merle McGee is the President and Chief Executive Officer of Everyday Democracy. Merle brings over 25 years' experience in non-profit settings fighting alongside historically marginalized and excluded communities for dignity and racial, gender, and economic justice. Before joining Everyday Democracy in May 2022, Merle served as Chief Equity and Engagement Officer at Planned Parenthood of Greater New York, where she led organizational transformation through community engagement initiatives and by conceiving and implementing Reviving Radical, an initiative to reckon with the organization's history and build accountable relationships with communities of color.
Prior to her work at Planned Parenthood, Merle served as Chief Program Officer at YWCA of the City of New York and taught non-profit consulting and Race and Identity in Organizations at New York University's Robert F. Wagner School of Public Service.
Merle earned her Bachelor of Fine Arts from New York University, Tisch School of the Arts, and a Master of Science in Nonprofit Management from the New School. She is also co-facilitator and leader with the Anti-Racist Alliance and the co-founder of the The BIPOC Project, an antiracist collective committed to building solidarity among people of color. Merle received the inaugural Planned Parenthood Federation A.P.P.L.E Justice award for Reviving Radical and was named City & State's 50 over Fifty Influential New Yorker in 2021.
To reach the Office of President & CEO, please contact Executive Assistant and Special Projects Coordinator Kimberly McCrae at kmccrae@everyday-democracy.org or (860) 727-5927.